---
---
Air Purifiers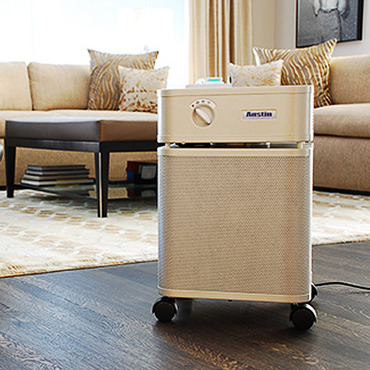 Clean Air and Your Health
Orca Systems is proud to be a distributor for Austin Air and provide our customers with advanced air purification to promote healthy indoor air quality. The product line offers six different models – Austin Air Healthmate Plus, Healthmate Standard, Healthmate Plus Jr., Healthmate Junior, Austin Air HEGA and HEGA Jr. This allows the consumer to choose which model is right for them based on their individual needs.
Indoor Air Quality
Environmental research is disclosing a surprising and disturbing factor for our health - the quality of indoor air in the home is much more important than ever suspected. The Congressional Quarterly has claimed that indoor air is often two to five times more polluted than outdoor air and can be up to 1,000 times as dirty.
This is an issue that concerns us all. The first step is awareness of the risks. Fortunately, prevention is easy and economical. Your home or your office can have clean air for healthy living right now.
Austin Air Healthmate, Healthmate Plus and HEGA Air Purifiers are perfect for someone who...
• Suffers from Allergy/Asthma.
• Has multiple chemical sensitivities and needs an air filter that doesn't off gas.
• Wants a good value in an air purifier for particulates, odours and gases for up to 1500 sq ft.
• Needs HEPA particulate (small particle) filtration as well as filters for gases, odours and or smoke problems.
• A city dweller with medium particulate allergies who also may have city or neighbourhood pollutants that produce odours, gases and soot.
• Needs to remove volatile organic compounds and chemically reactive gases such as formaldehyde, ammonias and odours.
• Wants an air purifier that resists scratching, scuffing and smudging.
• Wants to be able to move the air purifier easily from room to room on casters.
Read Testing and Claims from the Austin Air official website.
Features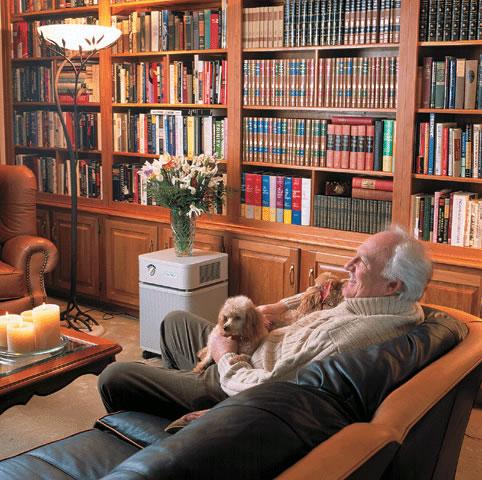 • Removes a wide variety of contaminants: particles removed include dust, pollens, dander, odours, chemical vapours and more.
• Controls Volatile Organic Compounds (VOCs): additional filter treatment of potassium iodide gives greater effectiveness in removing volatile organic compounds such as fresh paint and woodworking odours. (Healthmate Plus models are additionally effective in removing chemically reactive gases such as formaldehyde, ammonias and "new carpet".)
• Protects from toxic poisons and smoke: activated carbon is woven into a lightweight cloth, which is powerful enough to protect military personnel from toxic poisons. (HEGA models). (Note: Improved ventilation and use of air purifiers may reduce, but will not completely eliminate, your exposure to secondhand smoke and the associated health risks.)
• Lasts up to 30% longer than conventional carbon/zeolite filters and weighs 13 pounds less.
• Does not produce harmful air components: Austin air purifiers do not produce ozone or negative ions.
• Good air flow: All units draw in air on all four sides.
• Easily cleaned and maintains finish: Each unit is encased in steel with a special baked-on powder coat finish with a non-gloss, lightly textured surface that resists scratching, scuffing and smudging. Clean easily with a just a wipe of the cloth.
• Ease of mobility: Austin Healthmate Standard and Plus air purifier models are mounted on 4 casters (Healthmate Jr. model is not wheel mounted.)
• Low energy use: uses very little energy even on its highest setting.
• Low filter cost: Austin air purifiers replacement filter costs are low, which means less annual maintenance cost.
• Extra lengthy 5 year warranty: on parts and prorated 5 years on the filter under normal household use.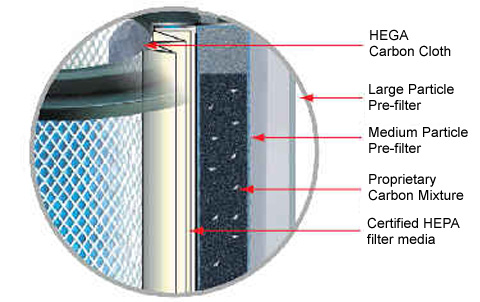 What is HEPA and HEGA Filtration?
Most people have heard of HEPA filtration which is HIGH EFFICIENCY PARTICULATE ARRESTANCE filtration (good for small particles such as dust, danger, pollen, mold, etc.) In cases of smoke removal, this is highly effective, since the smoke consists of millions of tiny particles which normally would fill the pores of the activated carbon, greatly reducing its life and effectiveness. In the Austin Air HEGA, the positioning of the HEPA and gas filter is reversed. The HEPA filter is located first on the outside, and the HEGA filter is located second on the inside. The smoke encounters the HEPA filter first, where the smoke particles are removed and then the gases and odors can be addressed by the HEGA filter.
Some allergy sufferers also need chemicals, odors, and gases removed from their environments (new homes, city living, apartment living). This type of gas filtration is usually achieved by using some type of carbon or carbon/zeolite pellets to absorb the gases and odors. Some manufacturers are now also using a carbon cloth filter for gas and odor control. Wouldn't it be great to combine both technologies to remove particulates, gases and odors?
Austin Air's product development team listened and developed a method for combining the carbon cloth's gas trapping properties with HEPA particles filtration. Austin engineers named their new filtration discovery HEGA - High Efficiency Gas Absorption. It consists of an activated carbon lightweight cloth, which is powerful enough to protect military personnel from toxic poisons. Because of this, it is also more effective for smoke filtration.
---
Orca Systems © 2016 - Contact Orca Systems